It is hard to deny that the industry automation is a bull's-eye and a step towards providing companies with a stable and secure market position. As designers, manufacturers and suppliers of automated storage systems, we have our share in this. What can you gain by investing in automatic storage systems? Here you are, the 10 most important benefits. 
''but I don't have enough space at my warehouse'

Nothing could be further from the truth! Automated storage will enable to recover and save up to 80% of your storage space. How is it possible? It allows you to use space that has not been usable yet. It can reach to your hall's ceiling or be located in places that are difficult to reach, such as recesses, each time delivering goods directly to your hands. Moreover, dynamic goods' height measuring at the access point enables to adjust a distance between shelves to stored products dimensions automatically. No more air storing!
Faster logistic operation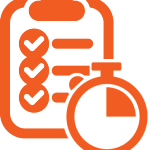 Automation of the logistics, especially the picking process, enables to achieve much better results than manual labor. Faster means more efficient, more efficient means cheaper – more operations at the same time means higher profit for the company. Examples? The extractor delivers the shelves at a speed of 2.3 m/s.
Easy and fast goods searching

Trying to find a product in a large warehouse space is very time consuming. It can be easier and faster! Automated storage systems enable not only to collect all goods in a small area, but also identify them easily by highlighting the searched items (so-called pick-o-light system). Easy, fast and flawless!

Access control that requires logging to the system by employees increases the security of storing processes. But that's not the end of the story! VendiShelf or Lockomat restricts access to only one item for a particular person. 
Flawless goods identification

ISL automated storage systems are never wrong! Automation of logistic processes eliminates mistakes in searching and picking goods, that reduces time of delivering right items to a user. Barcodes, RFID, pick to light – find out how we use these technologies in our racks!

One of the important benefit of automated storage system use is a possibility to integrate them with the company's IT system, e.g. ERP/ WMS. Remote control? Managing your stock on the go? These are just a few functions available!

Very sensitive goods, such as electronics, documents or large sheets of metal or long bars, require special protection. Automated storage systems guarantee protection against deformation or mechanical damage, harmful influence of humidity, high or low temperature, dust or light. They enable to store medicines at low temperature, ensuring the right level of humidity to labels, ESD protection to electronics or a protection against e.g. oxidation to numismats in museums. It's easy! See that working with us is easier!

It is much easier and safer to perform all warehouse operations , when you can resign from using ladders, booms and mezzanines, and the goods are delivered directly to a user from the access window located at a comfortable, ergonomic height. Rotomat or Lean-Lift will also make work easier for disabled people. Our automatic storage systems can pass through a few floors of a building, which enables to collect goods on any floor in a few seconds. No more lifting loads, no more difficult loading/unloading at the height. Work is safer, more efficient and the risk of accidents is minimized.
Easy and fast installation and use

Our automated storage systems do not require a complicated installation process due to their modular construction, so we call them 'ready to use'.  Additionally, they are easy to expand in the future,  to meet your changing needs easily. Operation is easy and does not require complicated courses or expertise. And here we come to the next important issue, that is: 

Our service enjoys a good reputation among customers, as we have a professional service team operating throughout Poland, prepared i.a to help and carry out training courses for our customers' employees. We work with the best suppliers, based on top-class components. We are here to help, and every subsequent praise reminds us that… it is worth trying!